SUMMER SKIN TIPS BY DR. PANCHAL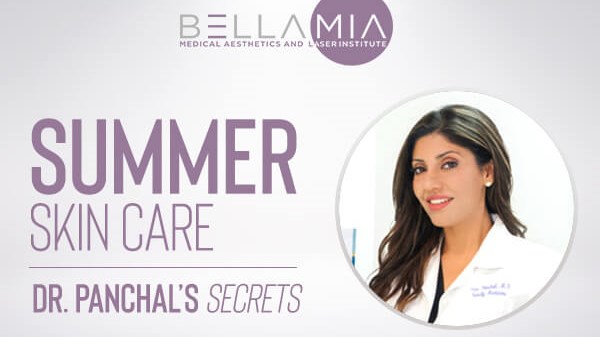 Summers here, and with that comes changes to our skin that if ignored, can lead to chaos!
Let's face it, a full skin care regimen isn't cheap but simple changes to your skin regimen throughout the seasons to best accommodate your skin needs doesn't have to break the bank!
I want to share just a few quick adjustments I personally make to my skin care regimen during the summer months that do not disturb my daily skin regimen and, best of all, is incredibly affordable!

Like many of my patients, I too suffer from oily, acne prone skin and it has taken experimenting through a lot of different skin care regimens and products before finally being able to bring my skin to it's the best condition its seen in years! I know how nerve-wracking it can be to make any drastic changes to your skin care regimen, with a fear of how your skin may react. However, these simple changes are easily incorporated into your daily routine and will help heal, hydrate, and protect your skin through the hot and humid summer season.
My daily regimen includes the ZO by Dr. Obagi line of products, these products are my absolute favorites. I follow the "Getting skin ready" protocol which consists of 1. A gentle cleanser, 2. Complexion renewal pads 3. Exfoliation polish. For treatment products, I rotate between hydroquinone protocol and the retinol anti-aging protocol. When summertime rolls around I add these simple and affordable adjustments into my daily regimen to ensure my skin stays protected against the Florida heat.
First, I switch out my ZO complexion renewal pads for ZO Oil Control Pads. The summer months make my skin noticeably more oily, giving me a shinier complexion I'm definitely not looking for! These toner pads carry a higher percentage of Salicylic Acid (2%), glycolic and mandelic acid which when combined with additional ingredients such as fruit and witch hazel extract for their naturally occurring properties help maximize acne prevention. By exfoliating skin clogging cells, these pads help minimize oil and tighten my pores helping my skin retain a calm and shine-free state all season long.
Second, from May through August I hold my hydroquinone and retinol/retinoic acid treatment products as they make my skin more sensitive to the sun. I spend a lot of my time outdoors during the summer season so I knew I had to make a change but still wanted to find a product with skin brightening benefits along with pigment control. After some research, I found ZO Brightalive Skin Brightener which I now use daily during summer. This product provides skin brightening and blocks new pigment formation, removes dead skin cells and helps purge existing pigment while calming and soothing skin. Being a hydroquinone/retinol free product makes this a great, gentle, and inexpensive alternative for the summer months. Even better, pregnant or breastfeeding moms can also enjoy this product too!
Third, I've found that keeping up with at least one Hydrafacial a month has helped keep my pores clean by removing dead skin cells from a deeper level, preventing acne causing build up. The best part about a Hydrafacial is the ability to customize it with your current skin concerns. In the summer months, I concentrate on continuously correcting and controlling pigment by adding "Britenol" booster to my Hydrafacial treatments. This booster is an intensive treatment that helps minimize the appearance of dark spots and sun spots for an even complexion. I alternate the Britenol booster with a higher grade salicylic acid/glycolic acid booster to really help control my acne, especially in my T-Zone. I'll also add in "Dermabuilder Booster" because who doesn't want to minimize the signs of aging!? With its rich concoction of peptides, my skin gets the perfect recharge it needs! Changing up the boosters you use with your Hydrafacials is a great and very inexpensive way to help battle some of our annoying summer skin demons!

There you have it, 3 quick and easy steps that don't have you purchasing a whole new regimen or line of products, keeping cost low while minimizing some of the summer hazards we all love to hate!
Everyone's skin is different, by speaking to one of our providers at The Aesthetics Lab we can help guide and educate you on what would be the best adjustments for you!