About IPL (Intense Pulsed Light)
IPL (Intense Pulsed Light) Photofacial is a laser light treatment that targets pigment issues, such as Age Spots, Sun Damage, Freckles, Spider Veins, Redness, Rosacea, and Large Pores. The bright light penetrates deep into the skin, below the epidermis, which helps stimulate collagen. The pigment imperfections absorb the light and move up to the surface of the skin, eventually flaking off and leaving you with beautiful, youthful, and glowing skin.
IPL can be used just about anywhere on the body including the face, neck, chest, shoulders, back, arms, and legs.
The physician at The Aesthetics Lab will perform a thorough examination of your skin and determine if sun damage treatment is appropriate for you.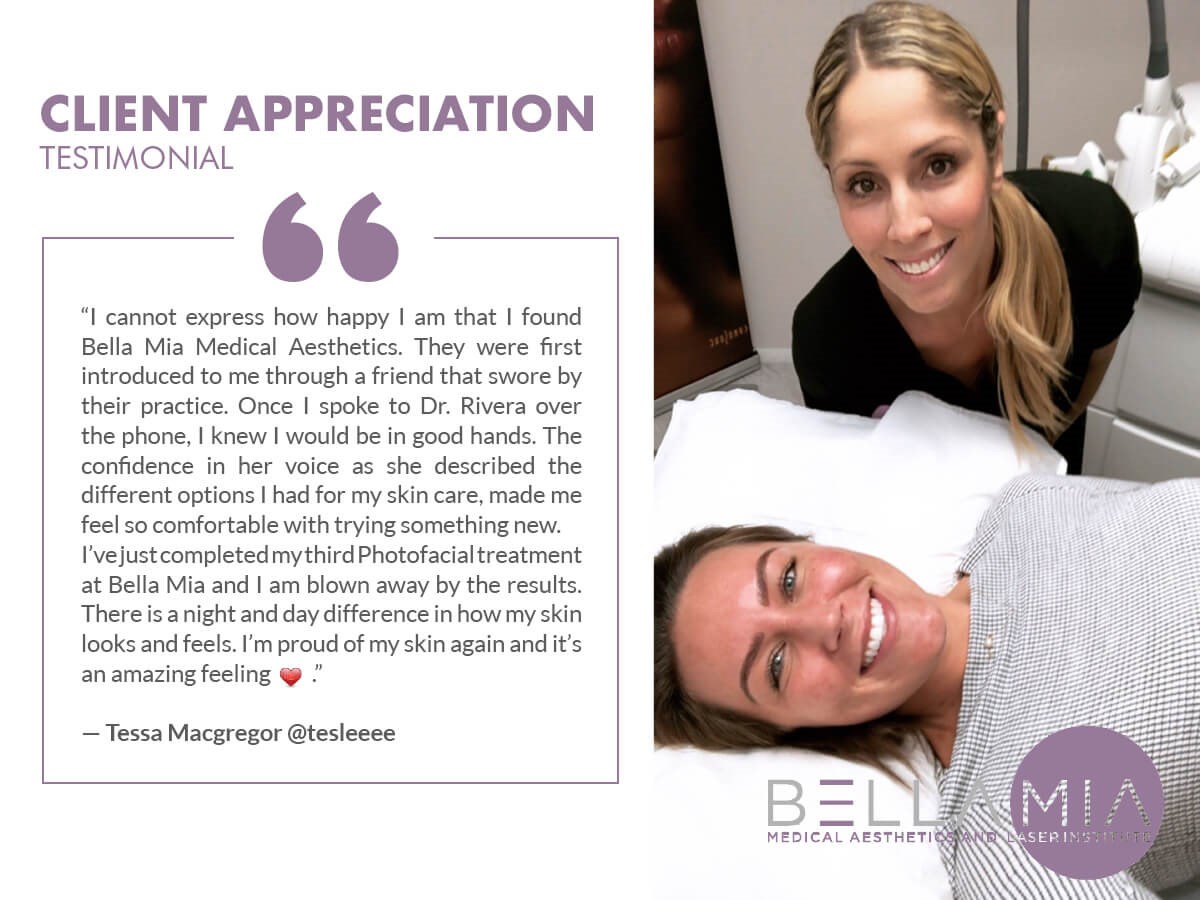 What Results Can I Expect from IPL?
There is no downtime needed with an IPL photofacial. You will leave our office with your complexion a little swollen and pink, but it will decrease on its own in several hours — it may be concealed with makeup if you want. The Aesthetics Lab suggest you apply a cream on the skin to minimize any irritation and speed healing. It also helps to use an anti-inflammatory medicine to help ease swelling. After several days, the sun damage and other irregularities under the skin will come to the surface and begin to flake away. It is crucial to protect your skin with sunscreen as often as possible after an IPL photofacial treatment and to not pick at your skin. While you will see some results after your first session, your skin will attain the best results after several photofacial sessions. Doctors recommend approximately 3 – 6 sessions scheduled every four weeks at The Aesthetics Lab.
Am I a good candidate for an IPL photofacial?
An IPL photofacial works the deeper layers of your skin to improve many complexion concerns (particularly sun spots and brown lesions) with little or no downtime needed after treatment. The best candidates for IPL at The Aesthetics Lab may have several concerns with their skin, including rosacea, sun damage, brown spots (hyperpigmentation), rough texture, large pores, flushing, freckles, melasma, age and sun spots, or spider veins. Dr. Panchal will examine your complexion to determine if you will benefit from an IPL photofacial during your initial consultation.
Laser Sun Damage Treatment Reviews
"Juliana is the best! Been going to her for a while now for my laser treatment.She's fast, professional and just awesome all around. Bella Mia is clean and the others are very nice when you walk in. Highly recommend all of the services that they offer."
- G.D. /
Google /
Aug 06, 2021
"I found them as I was looking for a specific laser treatment because I was not happy with the place where I was going, and not many places in Tampa offered it. They are doing a great job and succeeding where the other laser therapist failed. Very clean place, always on schedule and easy to work with. they always follow-up the next day. Recommended"
- L.G. /
Google /
Dec 06, 2019
"Very friendly staff, make you feel comfortable, excellent customer service. Very clean and professional."
- S.M. /
Google /
Oct 08, 2020
"Professional service with accommodating staff. Will definitely return and refer friends and family."
- M.R. /
Google /
Jun 22, 2021
"Soo happy with my experience. Dr Panchal is pretty, kind and very skilled. She knows how to get you looking and feeling refreshed. She explains everything, is very attentive and texts you to follow up. I'm very happy with my experience and results. Go see her, you won't regret it. I'm going back for a facial soon and look forward to going again."
- B.R. /
Google /
Aug 16, 2021
Previous
Next
How can I prevent future sun damage?
Many steps can help you prevent future sun damage in Tampa, FL, including wearing sunscreen and a wide-brimmed hat when spending any amount of time outside. Tanning beds are another source of harmful UV rays that should be avoided. You can also help prevent damage by using products with Vitamin C in your daily beauty routine.
What if I have darker skin?
Some lasers indeed cause problems like discoloration in darker skin. While IPL is safe for most skin tones and types, it's best to be seen by a professional for an official recommendation. The specialists at The Aesthetics Lab are proud to work with individuals of all backgrounds and needs. We can make suggestions that are both safe and effective for your skin.
Does it matter who performs my treatment?
Laser treatments are a safe way to improve the surface of your skin, but only in the hands of a skilled professional. It's best not to choose a clinic based on who offers the best deal or "sale." People who are not trained in IPL can cause serious damage or poor results. Our providers have the experience and qualifications to perform treatment that works towards your goals.
Even if you didn't think much about your skin's health when you were a child, once skin damage from spots and other problems becomes visible, you may now be interested in how to improve your skin. We encourage you to learn more about photofacial treatments by contacting our Tampa, FL office and scheduling a skin examination with providers. With an IPL treatment at The Aesthetics Lab, we can go deep within the layers of damaged skin to help bring back a youthful glow and a healthy complexion.
Related Procedures
Related Posts